Fulcher Urges Dems To Switch Parties
Senate Majority Caucus Chairman Russ Fulcher is urging Democrats, Libertarians and members of the Constitution Party to re-register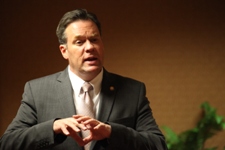 and vote in the May 20 closed Republican primary. "NEXT FRIDAY, March 14, is the last day you can change your party affiliation to Republican in order to vote in the May 20 Republican Primary," Fulcher wrote in an email Wednesday. "This deadline is fast approaching, so please make sure you take care of this as soon as you can. We don't want to see any voters turned away at the polls on election day." The Meridian Republican explains how members of the three other officially recognized parties can re-register and provides links to the Idaho Political Party Affiliation Declaration Form that must be filed by voters wishing to change affiliation and contact information for the 44 county clerks/Dan Popkey, Idaho Statesman. More here.
DFO: Gracious! Fulcher & I are on the same page re: abolishing the sales tax for groceries. Now we're on the same page re: Democrats, Libertarians & Constitution Party members re-registering or affiliating with Republicans to vote in GOPrimary. What's happening here?
Question: Any of you Democrats, Libertarians, Constitutionalists, Unaffiliateds planning to re-register or affiliate with the Republican Party to vote in the closed GOPrimary this spring?
---
---