Thu., March 6, 2014, 4:56 p.m.
McEuen Field: May Opening On Track
It may require some longer work days and weekends on the job site, but the primary contractor for the McEuen Park reconstruction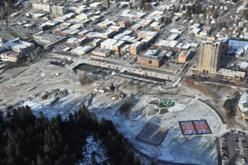 project still plans on an early May opening for the multi-million dollar lakeside park. "We're still shooting for the same timeline and we're excited about the weather," said Bryan Taylor, President and COO of Contractors Northwest, Inc. "Right now, we're at the mercy of Mother Nature." Crew lost some ground in recent weeks due to frigid cold snaps and a couple snow storms. But the bad conditions didn't come as a surprise, officials said. After all, it's winter in North Idaho. "We're trying to devise a plan to be in a position to be substantially complete in early May as originally planned," Taylor said Thursday. "What that will require, more than anything else, is dry weather"/Keith Erickson, Coeur d'Alene Today.
---
---