Fri., March 7, 2014, 8:18 a.m.
Frasure Stumps For Votes In CdA
Former Idaho state Sen. Evan Frasure, of Pocatello, says he is offering voters a non-Boise-area alternative for the office of Secretary of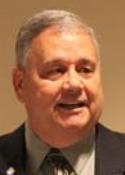 State. The current high school social studies teacher and former grocery store owner-operator, real estate broker and political campaign staffer is running now that Ben Ysursa isn't seeking another term. Frasure, a 62-year-old Republican, spent two years in the state House and 10 years in the state Senate, where he chaired the Transportation Committee and served on the Resources and Environment Committee. He was in the Legislature from 1990 to 2002. In part, he's drawn to the Secretary of State's office because of the state land board, which he would serve on with the governor and other statewide elected officials. The board needs the perspective of somebody from outside the greater Boise area, he said/David Cole, Coeur d'Alene Press. More here. (Photo: Duane Rasmussen)
Question: Frasure was no friend of North Idaho when he chaired the Senate Transportation Committee. Now he wants our votes for Secretary of State? Hmm.
---
---