Mon., March 10, 2014, 5:27 p.m.
Boomers Fuel Motorcycle Boom
Motorcyclists have their own gang: baby boomers. On a nice, sunny day this spring, when you hear a bike rev, it's more likely to be an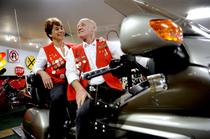 older white man who is a doctor or lawyer, not a young rebel outlaw with skull tattoos and a rap sheet. The sweet spot for the U.S. motorcycle industry is white men in their late 40s and 50s. They are older, wealthier and a lot more mainstream than those freewheeling hippies riding choppers, selling drugs and practicing free love in the iconic 1969 film "Easy Rider." Thousands of local bikers or potential bikers will show up this weekend for the 11th annual Inland Northwest Motorcycle Show and Sale at the Spokane County Fair and Expo Center. Last year 10,000 people attended the show and most – 68 percent – were older than 40/Erica Curless, SR Boomer U. More here. (SR photo by Kathy Plonka: Lilac City Wings chapter directors Mary Grose and Wally Youmans talk about the club while sitting on a 2006 Gold Wing at Coeur d'Alene Honda)
Question: Have you dreamed of owning a motorcycle?
---
---