Mon., March 10, 2014, 8:34 a.m.
NIC Enrollment Drop Means Less $$$
North Idaho College's declining enrollment is getting a lot of attention lately, and it will continue to as administrators and trustees seek to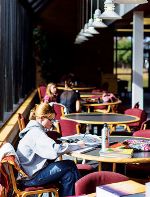 cut $2.3 million from next year's budget. Enrollment declined by 11 percent this year and is expected to drop another 10 percent next year, and with fewer students come less tuition dollars, a source of revenue that represents more than a third of NIC's current $44.8 million budget. NIC President Joe Dunlap and Athletics Director Al Williams pointed to the enrollment drop when they recently recommended that the college switch from a national athletics conference to a less costly regional community college sports association. The trustees will meet Thursday to decide whether to follow that recommendation, a move expected to chop an estimated $600,000 per year from the college budget. Department heads at the college are preparing their initial budget presentations now, said NIC spokesman Mark Browning/Maureen Dolan, Coeur d'Alene Press. More here.
Question: Have you or a member of your family been served by North Idaho College?
---
---