Mon., March 10, 2014, 3:54 p.m.
Zombies ♥ Katniss Everdeen
With a DVD of "Ender's Game" in hand, I approached the checkout counter of Hastings last evening to ask if any copies of "Catching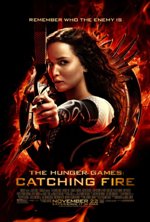 Fire" had been turned in. Sometimes, you can get a hot movie up front when they're all checked out on the shelf. But none were to be had. "They've cleaned them out," explained the clerk. "They were like zombies." Apparently, he confided in me because he didn't think I was acting too zombie-like. (Otherwise, I might have gotten a stake through the head.) Later, in the evening, I peeked in the living room as my wife was watching "Walking Dead." I didn't see any copies of "Catching Fire" in the hands of the zombies who were being slaughtered by Daryl and the gang. "Ender's Game" provided a decent evening of movie viewing anyway.
Question: What's your strategy for snagging a hot new release, like "Catching Fire," from Hastings or another video store?
---
---