Tue., March 11, 2014, 9:45 a.m.
Edit: A Shameful Senate Panel Vote
How inconsiderate of us to fail to recognize that six members of the Senate State Affairs Committee are special and ought to be exempt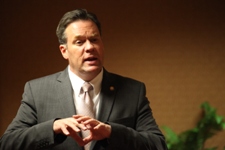 from associating with the unwashed and unanointed when securing an Idaho permit to carry a concealed weapon. Our gross error of expecting a level playing field for elected officials and the people who elect them was slapped down by a 6-2 vote in the committee Monday. The uppity HB 514, which passed the House 62-7-1 earlier, was, we have learned, only a temporary and inexcusable lapse in judgment corrected by these omniscient members of State Affairs. No one could have said it better than Sen. Russ Fulcher, (pictured) R-Meridian and a gubernatorial candidate: "We do not need to relinquish our privileges"/Idaho Statesman Editorial Board. More here. (File photo: Duane Rasmussen)
Question: How badly has state Sen. Russ "Special Gun Privileges" Fulcher hurt himself with his vote to keep his special gun privileges?
---
---