Tue., March 11, 2014, 4:58 p.m.
Gay Republican Runs For Idaho Office
When candidate Dom Gelsomino speaks about his views on government, you can understand why he's running as Republican for a House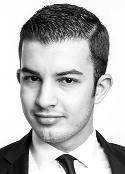 seat in District 18. But there's one thing about Gelsomino that is unique when it comes to Idaho Republicans. "Idaho is in for quite a treat," Gelsomino tells On Your Side. "Idaho gets to see its first openly gay Republican run for office, and a conservative Republican, too." With gay rights as one of the hottest issues at the Idaho statehouse, many have viewed the issue as partisan - that "adding the words" went down party lines. Gelsomino says, not if he's elected. "I would support add the words where religious institutions, organizations and businesses would be exempt, as would be the federal and state-owned businesses, buildings or organizations," he says/KIVI. More here. (Photo form Dom Gelsomino Facebook page)
Question: What will the Idaho Republican Party do with this one?
---
---