Tue., March 11, 2014, 8:33 a.m.
McEuen To Get Worker Tribute?
It's a tribute to the American worker, who Dean Haagenson said is very much underappreciated. "You don't appreciate the electrician until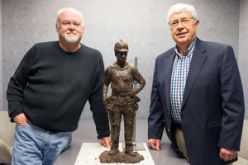 the electricity goes out, and you don't appreciate the plumber until the sewer backs up," he told the city of Coeur d'Alene's General Services Committee on Monday. "Those are the people who make this country work and we need to appreciate them." Haagenson, CEO of Contractors Northwest, Inc., is donating the $50,000 statue titled "American Worker" to the city, and wants the piece to be located in McEuen Park, which his firm is in the process of constructing. He hired local artist Terry Lee to sculpt the bronze statue, which should be completed within the next few months/Jeff Selle, Coeur d'Alene Press. More here. (Shawn Gust CdA Press photo: Dean Haagenson, right, is donating a $50,000 life-size bronze statue made by artist Terry Lee to be placed at McEuen Park)
Question: Hey, I like the idea. How about you?
---
---