Thu., March 13, 2014, 9:09 a.m.
Edit: No Reason To Spring Ahead
Daylight saving time was less than two days old for 2014, and the editorial board was grumpy when it met Monday afternoon. Some might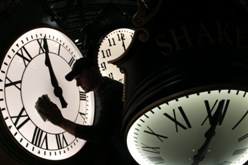 say this was because it has been scientifically shown that heart attacks, workplace injuries, traffic accidents, headaches and other physical ailments all increase when the clocks change twice a year for daylight saving time. Of course, the editorial board is always grumpy Monday afternoons well, really, whenever it meets. Nevertheless, the board was considering the rationale behind an idea so wacky it might not even be approved by the Idaho Legislature. The idea was that since the daylight saving changes trouble us so, let's just pick a time and stick with it/Lee Rozen, Moscow-Pullman Daily News. More here. (AP file photo)
Question: Should we do away with daylight-saving time?
---
---