Thu., March 13, 2014, 4:33 p.m.
HD4B: Currie Seeks Sims' Seat
Former county commissioner Rick Currie just emailed Huckleberries his official candidacy announcement for House District 4 seat now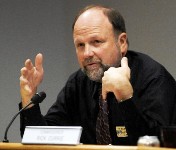 held by state Rep. Kathy Sims, R-Coeur d'Alene: "I'm announcing my candidacy for Idaho House Seat 4B, and look forward to using the experience of serving on the Kootenai County Board of Commissioners and a lifetime of community involvement in Coeur d'Alene to the benefit of the citizens of District 4. The people of this district would be better served by having a voice in the Legislature that speaks to the many important issues we face. My agenda will be the broad representation of this area and I will encourage communication from the public on issues. Full release here.
Question: Can Currie beat Sims?
---
---