Fri., March 14, 2014, 8:50 a.m.
Campus Carry Upset Legislators
The ink is barely dry on the "guns on campus" bill, but resentment over the legislation may last considerably longer. Gov. C.L. (Butch)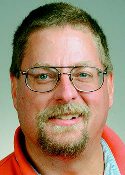 Otter signed the measure Wednesday afternoon, a week after it passed the House on a 50-19 vote. Given that almost no one was advocating for a change in campus firearm policies, even strong Second Amendment supporters question why it was brought forward. It dropped a politically difficult vote on relatively few legislators, putting those with college and university campuses in their districts in no-win situations. Many of their rural colleagues were handed an ideologically safe opportunity to burnish their conservative chops. "We were really mad about it," said Rep. Thyra Stevenson, R-Lewiston. "Not a lot of lawmakers have districts with universities. It seems like (those that don't) were tone deaf to some of the concerns I felt it was a very divisive bill. It focused on something we really didn't need to focus on"/William L. Spence, Lewiston Tribune. More here.
Factoid: The only Kootenai County legislator with enough common sense to oppose this crazy experiment in NRA ideology was state Sen. John Goedde.
Question: We've probably all had our say on this issue. So I'll simply ask: Thoughts?
---
---