Fulcher Earns Tribune Jeer
In his weekly Cheers & Jeers column, Marty Trillhaase of the Lewiston Tribune gives Jeers to:
... Sen. Russ Fulcher, R-Meridian. If one thing emerged from the Mark Patterson mess, it was this: Politicians should live under the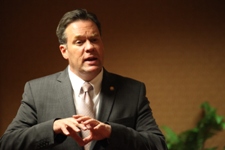 same laws as everyone else. Patterson was the Boise lawmaker whose application for a concealed weapons permit turned up a withheld judgment in a 1974 Florida rape case and an acquittal at trial in a 1977 Ohio rape case.Ada County Sheriff Gary Raney revoked Patterson's permit because he had concealed his criminal history. But a 1909 Idaho law allowed Patterson - and about 3,000 elected Idaho officials -- to carry a concealed weapon without any background checks or training. With the support of the NRA, the Idaho Sheriff's Association and House Speaker Scott Bedke, R-Oakley, a bill repealing that law sailed through the House -- 62-7. ... But when the measure reached the Senate State Affairs Committee, Fulcher led the charge against it - and succeeded in stopping it. (Complete Cheers & Jeers column here)
Question: A well-earned Jeer?
---
---