Fri., March 14, 2014, 1:06 p.m.
Vick, Vaughn Ward Back Fulcher
Senate Majority Caucus Chairman Russ Fulcher's primary challenge to two-term GOP incumbent Gov. Butch was not expected to draw a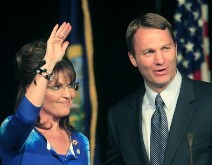 large number of Republican officials, but he has managed support from five sitting lawmakers, two retired legislators and one former lawmaker who's now a county commissioner. The five-term Meridian lawmaker announced his team in a news release Wednesday, marking his filing official candidate papers with the secretary of state's office for the May 20 primary. The five sitting GOP lawmakers with Fulcher are his House counterpart, GOP Caucus Chairman John Vander Woude of southwest Ada County, Sen. Steve Thayne of Emmett, Sen. Monty Pearce of New Plymouth, Sen. Steve Vick of Dalton Gardens and Rep. Judy Boyle of Midvale. ... Among Fulcher's North Idaho team is former GOP congressional candidate Vaughn Ward, whose 2010 campaign was backed by First Lady Lori Otter, then co-chair of "Republican Women for Ward"/Dan Popkey, Idaho Statesman. More here. (AP/Statesman file photo of Vaughn Ward and Sarah Palin during Ward's 2010 congressional run)
Question: No surprise that Vick's riding the Fulcher express off the nearest cliff. But Vaughn Ward, too? Has Ward gone Tea Party?
---
---