Fri., March 14, 2014, 11:15 a.m.
Why Herb's Running For Precinct Post
Until I threw my hat into the ring, I didn't connect apathy with the radical slant of the Republican Central Committee. I now realize how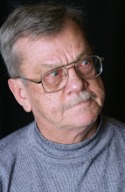 they got control. Half the precincts didn't have candidates and voters wouldn't have recognized the name most likely anyway. What happens is people either check the box for a person running unopposed, or skips it entirely. Here comes the good part. If a precinct doesn't have a committeeman, the Central Committee appoints one, ergo perpetual control of county politics. I am running in precinct 4 opposing a man that I understand was appointed in that manner. Well, if the folks in Bayview want a more representative person they now have me on the ballot/Herb Huseland, Bay Views. More here.
DFO: Herb has my vote. Unfortunately, I don't live in his precinct.
---
---