Mon., March 17, 2014, 10:04 a.m.
'Democrat' Spencer Files For Assessor
Larry Spencer lost his bid for county commissioner in the 2012 Republican primary elections, but this year he is guaranteed a spot in the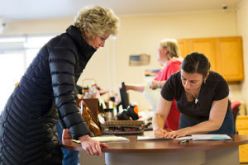 November general election. The longtime Republican filed Friday as a Democratic candidate for Kootenai County Assessor. "If you look, you'll probably see about four more of us, who filed as Democrats," Spencer said after filing most of his paperwork. He still has to produce evidence that he has lived at his Hayden address for more than one year. Tamra Dale, who rode with Spencer to the elections office also filed as a Democratic candidate for Kootenai County Commissioner District 1, but she will face Democrat Bruce Noble in the May 20 primary races. Dale refused to talk with The Press about her candidacy/Jeff Selle, Coeur d'Alene Press. More here. (Coeur d'Alene Press photo by Shawn Gust: Sandy Patano, left, works with Megan Bircher, senior elections clerk, to file paperwork for Kootenai County Republican central committee positions)
Question: What do you think of uberconservative Larry Spencer filing as a Democrat for Kootenai County assessor?
---
---