Mon., March 17, 2014, 8:46 a.m.
No. 8 Gonzaga Draws Oklahoma St
The Gonzaga Bulldogs got roughly the seed they expected and an opponent they're familiar with in perhaps the best location logistically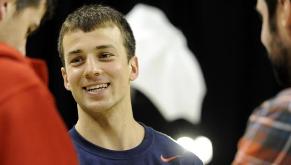 of the eight NCAA tournament opening-round sites. All in all, not a bad draw. The eighth-seeded Zags (28-6) will face No. 9 Oklahoma State (21-12) – a rematch of a 2012 New Year's Eve thriller won by GU 69-68 in Stillwater – in the West Regional at approximately 1:40 Friday at Viejas Arena on the campus of San Diego State. The Gonzaga-Oklahoma State winner will take on the winner of No. 1 Arizona-No. 16 Weber State. "It's nice playing on the West Coast," junior guard Gary Bell Jr. said. "A lot of our fans can come watch. Hopefully it feels like a home game"/Jim Meehan, SR. More here. (SR photo by Kathy Plonka: Kevin Pangos says of analysts' predictions that Oklahoma State will beat Gonzaga in their opener Friday: "I don't really take much from it.")
Question: Are you happy with the Gonzaga seed, bracket & first-round opponent?
---
---