Mon., March 17, 2014, 3:20 p.m.
Sandpoint Once Was 'Wretched Hole'
Sandpoint is known today as a tourism destination for skiers, hikers and fishermen. But for the last century, it was an important railroad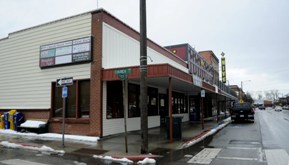 stop and a center of logging and milling. Following the explorations of David Thompson in 1809, the Lake Pend Oreille community was simple frontier settlement. And before white men arrived, it was Kamanquku, the name given by people from the Kootenai Tribe, meaning "sand all around." The Kootenai and Kalispel people built seasonal villages there to fish and pick huckleberries. An early visitor was William Adolph Baillie-Grohman, an Austrian aristocrat who loved to hunt and write about his adventures/Jesse Tinsley, SR. More here. (SR photo: Kathy Plonka)
Question: I was last in Sandpoint for a wedding in fall 2012. Dunno why I haven't been up there since. How about you? When did you last visit Sandpoint? For what reason did you visit?
---
---