Wed., March 19, 2014, 12:50 p.m.
Dogwalk: The West & Obama's West
Our upcoming trip couldn't have come at a better time. We're headed for Great Falls, Montana to the Charles M. Russell western art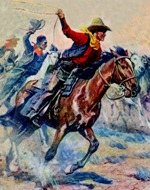 extravaganza. Some of the best western and wild life art in the country, among other genres, will be presented in a variety of venues. Much is for sale outright, as much if not more is up for auction to benefit a variety of causes, the main one being the Russell museum. It takes me back to the days when men were men, women were just as tough and youngsters had respect. In a lot of cases, that view still holds true in parts of the west. Perhaps mainly in Montana where people are few and spaces are vast and beautiful. I may have singled out Montana because that's where Hub grew up. He has many of those characteristics as did his family/Dogwalk Musings. More here. (Painting: Charlie Russell)
Question: Have you lived in any other western states? How would you compare that state to Idaho?
---
---