Downtown CdA Is Construction Zone
Asphalt and concrete are being stripped in several downtown areas as the city finishes up projects they hope to complete this spring.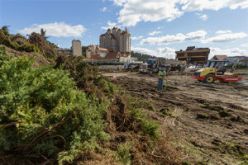 Traffic in downtown Coeur d'Alene is being detoured around Sherman Avenue at Third Street this week while upgrades are made as part of the McEuen Park and Front Avenue reconstruction projects. Crews started Monday with sidewalk, street and traffic signal work to transform Third Street downtown from one-way southbound to a two-way arterial from Front to Lakeside Avenue. During construction, east-west traffic is being rerouted to Lakeside at Second and Fifth Streets. Although traffic will not be allowed to cross at Third or Sherman, on-street parking will be available for a half-block on the 200 and 300 blocks of Sherman near the work site/Jeff Selle, Coeur d'Alene Press. More here. (Press photo by Shawn Gust: Ron Rojas, crew chief for Welch Comer Engineers, surveys an area of the construction site between the Coeur d'Alene Resort and Sherman Avenue on Tuesday)
DFO: Just came from coffee at Bakery by the Lake with city spokesman Keith Erickson. Sherman Avenue was shut from 2nd to 4th. You need to plan for detours if you're going downtown today.
---
---