Thu., March 20, 2014, 8:40 a.m.
McEuen Crews Switch To 7-Day Shifts
The clock is ticking. With the much-anticipated opening of McEuen Park in May, the general contractor for the $20 million park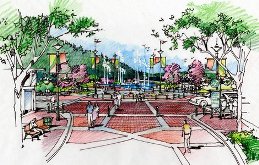 reconstruction project recently expanded its schedule to include Saturdays and Sundays. That schedule will continue until the park is complete. "We're going to get as many people out there as we can (on weekends)," said Bryan Taylor, president of Contractors Northwest, Inc. Weekend work will include landscape grading, concrete and structural work. Meanwhile, the last section of sidewalk on the north side of Front Avenue along Fifth Street is nearly complete. The sidewalk will open on Monday (March 24), opening up 20 angled parking spots along that block. Angle parking on Front has been popular, with most spots filled during the day/Keith Erickson, Coeur d'Alene Today. More here. (Artist's rendering: City of Coeur d'Alene)
Question: If McEuen Field isn't ready to open on deadline in early May, should the city launch a soft opening for the nearly finished eastern end of the green space (children's park, outdoor basketball courts, pickleball courts, dog park) at that time?
---
---