THURSDAY, MARCH 20, 2014, 9:04 A.M.
Post Falls In Search Of A Center
Talking about how Post Falls needs a lively city center is one thing. Getting there has been another. City and urban renewal officials are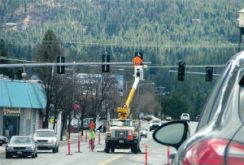 dusting off the City Center Urban Renewal District book that in 2005 defined projects aimed at creating economic development for a downtown area. The boards are assessing whether the pump has been primed enough with past and current projects, if priorities from nine years ago should be reshuffled or if the district should close before its slated 2018 end. During a joint workshop on Tuesday, opinions were widespread on the future of the district/Brian Walker, Coeur d'Alene Press. More here. (Press photo by Kerri Thoreson: Traffic singnals at Fourth and Spokane in Post Falls are part of an urban renewal project aimed at improving the Spokane Street corridor)
Question: Where do you think the city center of Post Falls is?
---
---