Mon., March 24, 2014, 4:58 p.m.
CPD: 17 Weekend Vehicle Burglaries
Coeur d'Alene Police Officers took seventeen auto burglary reports over the past weekend of March 21-23. The majority of the vehicles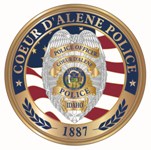 entered were parked in public places such as restaurants, hotels, and retail stores. These businesses are located on Ironwood Drive, Appleway Avenue, Canfield Avenue and Neider Avenue. The burglaries occurred during the early morning hours. Twelve of the vehicles were entered by a window being smashed. The other vehicles had been left unlocked. Items taken from the vehicles included suitcases, purses, laptops, iPods, iPads, wallets and cell phones. There has been a steady increase in auto burglaries and vehicle thefts in the past few weeks. Six vehicles were reported stolen over the weekend. Three of them are still unaccounted for. Two were recovered by Coeur d'Alene Police and one was located by Spokane Police/Sgt. Christie Wood, Coeur d'Alene Police Department.
---
---