Mon., March 24, 2014, 4:13 p.m.
Suspicious Device Shuts CdA Road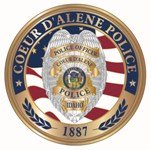 Coeur d'Alene Police officers have closed access to the 1400 block of Lakeshore Drive, due to a possible small explosive device found on the beach. A homeowner reported finding the suspicious device as he was doing beach clean-up. The scene is stable at this time with no structures or citizens at risk. Officers have been in contact with the Spokane Bomb Squad about the device. More information will be provided as it becomes available/Sgt. Christie Wood, Coeur d'Alene Police Department.
---
---