Tue., March 25, 2014, 1:18 p.m.
Girl Uses CPR To Save Grandfather
On a Thursday at Riverside High School, Shelby Morgan learned CPR. That Friday, she learned how to use an automated external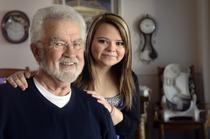 defibrillator, which can deliver a lifesaving shock to the heart. The following Monday, she saved her grandpa. A lot of other people saved Dick Morgan, too: the first responders who arrived at his Shadle home on Feb. 10 and shocked his heart back into rhythm, the hospital crew who treated him, cooling his body to slow neurological function and protect his brain after his cardiac arrest, and reporting his prognosis to his family in terms of if – if he recovered, not when. But Dick Morgan's "chain of survival" started with Shelby/Adrian Rogers, SR. More here. (SR photo by Jesse Tinsley: Richard Morgan, left, had a heart attack recently and survived because his granddaughter Shelby Morgan, 15, knew CPR)
Question: Could you save a person using CPR?
---
---