Tue., March 25, 2014, 1:08 p.m.
UIdaho Teams Up With Google
Due to recent declines in University of Idaho student enrollment, the University Communications and Marketing team paired with Google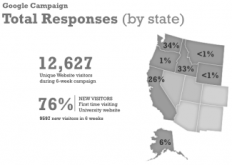 to attract attention to UI with strategically placed Internet advertisements, said Senior Director of Marketing Chris Cooney. "Google approached us last summer," Cooney said. "They offered three months of free consulting, free strategic consulting as well as the buying of the placements and the ability to adjust the campaign as it ran for the three month duration." Known as the "Google Campaign," the six-week endeavor took place from Sept.15 to Oct. 28. Cooney said the marketing campaign targeted seven Northwestern states and focused on placing display ads on Google's website and a video ad on YouTube, as well as increasing the chance uidaho.edu would pop up in Google searches/Amber Emery, UIdaho Argonaut. More here.
Question: How interested are you re: news about the University of Idaho?
---
---