Tue., March 25, 2014, 8:12 a.m.
Urban Chickens Come At A Price
When I heard that the South Hill Library was hosting a "Backyard Chicken Workshop" Monday night, well, I knew I had to be there. I don't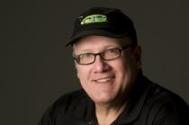 like to brag, but I consider myself the Picasso of backyard poultry. Really. Give me an hour with my Weber. I'll give you the best-damned barbecued bird you've ever eaten. Haw. I'm just pullet your leg. I knew that the chicken workshop, led by Paul and Susan Puhek, was about raising live chickens, not roasting dead ones. The Puheks operate S&P Homestead Farms in Otis Orchards, after all. What this engaging couple doesn't know about chicken-wrangling probably isn't worth knowing. And never before has this information been so relevant for Spokane/Doug Clark, SR. More here.
Question: Have you ever killed, plucked and eaten a chicken?
---
---