Wed., March 26, 2014, 8:31 a.m.
Local GOP Debates Meeting Minutes
Item: Transparency and trust: GOP central committee meeting focuses on minutes/Jeff Selle, Coeur d'Alene Press
More Info: Kellie Palm, pictured, said she just wants transparency and trust in the local Republican Party, and omitting information from the party's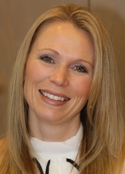 meeting minutes erodes those things. "I am a fact person," Palm said Tuesday night after the Kootenai County Republican Central Committee meeting. Palm, a precinct committeewoman, got in a heated disagreement last month with other precinct committee members over the omission of a report Chairman Neil Oliver gave at the Jan. 28 central committee meeting. Last month, Palm made a motion to have Oliver's chairman's report included in the minutes because it contained comments about how the state GOP was dealing with the presidential caucus rules for 2016.
Question: Name something you'd rather do than go to a Kootenai County Republican Central Committee meeting?
---
---