Wed., March 26, 2014, 2:29 p.m.
Morrison Looks For New Chapter
Adam Morrison watches his two daughters chase each other as the sun dips below the horizon, casting an orange glow through the living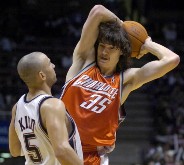 room of his home on the outskirts of Spokane. "Be careful," he says to his 5-year-old, who romps around the room with her 3-year-old sister. In the sports world, the 29-year-old Morrison is a former NCAA scoring champion, an NBA lottery pick with two world championship rings. He's a guy who hoops fans argue is either one of the greatest college basketball players of all time or one of the biggest disappointments in NBA history. Then there's this other Adam Morrison, the one who's now wrapping up his bachelor's degree with his sights set on a coaching career. That's the Morrison — about an eighth as introverted as we've been led to believe — feeding his kids dinner on this Friday night/Mark Bookey, Inlander. More here. (AP file photo: In this 2006 photo, Charlotte Bobcats' Adam Morrison (35) protects the ball from New Jersey Nets' Jason Kidd)
Question: Do you follow former Gonzaga players who are playing in the NBA?
---
---