WEDNESDAY, MARCH 26, 2014, 8:52 A.M.
Press: A Horror Story Unfolds
It didn't take long for comparisons to be drawn between Eldon Samuel III and Harvey Spencer Stephens. Eldon is the 14-year-old boy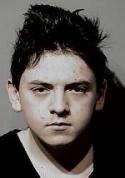 accused of murdering his father and his brother in a Coeur d'Alene transitional home Monday night. Harvey is the boy who played Damien Thorn in the 1976 occult thriller, "The Omen." Visual comparisons between the two are uncanny. Personality comparisons, while unfortunate, are perhaps inevitable. At this moment, Eldon isn't guilty of anything. He has been charged and will apparently stand trial as an adult in the bloody double homicide. He'll have his day in court, and until then, you will be far from alone in wondering what could possess a child -- any child -- to commit the heinous acts this boy is accused of committing/Coeur d'Alene Press Editorial Board. More here.
Thoughts?
---
---