Thu., March 27, 2014, 5:02 p.m.
Bauman Quits Central Kitsap Job
Citing health reasons, former Coeur d'Alene schools chief Hazel Bauman has resigned from her position as superintendent of the Central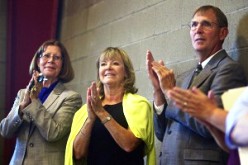 Kitsap School District. The western Washington district announced Tuesday that the school board there accepted Bauman's resignation on Monday. "This is a terrific district and community, and I've enjoyed my time here," said Bauman, in a prepared statement released by the Central Kitsap School District. "We've got some great initiatives underway, and I'd been looking forward to leading this work through next June. Unfortunately, my health will not allow me to continue. I would just ask for privacy for myself and my family during this time"/Coeur d'Alene Press. More here.
Thoughts?
---
---