Thu., March 27, 2014, 11:31 a.m.
Chenoweth Ups Idaho Equality Score
Idaho gets a C+ for the percentage of women it elects to Congress in a new election gender equality report card from the University of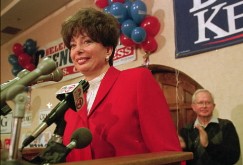 Minnesota's Smart Politics blog. The site, dedicated to data-driven political reporting, looked at all the U.S. House races for the past 25 years. Idaho's C+ comes from sending a woman to the House 12.5 percent of the time since 1989. That represents three wins out of 24 races, all by Republican Helen Chenoweth (later Chenoweth-Hage) who served from 1994 to 2001. One other woman has represented Idaho - Gracie Pfost - from 1953 to 1963/Adam Cotterell, Boise State Public Radio. More here. (AP file photo, of the late Helen Chenoweth-Hage, after her 1996 congressional victory)
Question: Why doesn't Idaho elect more women to Congress or any women to governor, lt. gov., secretary of state or attorney general positions?
---
---