THURSDAY, MARCH 27, 2014, 10:17 A.M.
Edit: Don't Mess With Graven Image
A Ten Commandments display in Sandpoint's Farmin Park is creating a stir -- but not in Sandpoint. A letter sent in November all the way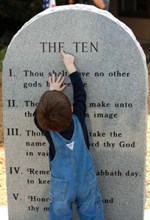 from the Freedom From Religion Foundation in Madison, Wis., recommended the city remove the 42-year-old monument from public land, and the Sandpoint City Council last week started gathering public opinion over what to do. The overwhelming response -- keep it. Whether the opinions are religious based, or parkgoers just fancy seeing it there, it's obvious Sandpoint intends to protect the monolith. Some dissenters, who are few, argue the monument should be moved to private property, saying the town is welcome to all viewpoints, and isn't there supposed to be a separation of church and state? Some contend no one is forced to look at the thing, so let it be. Move on/Lindsey Treffry, Moscow-Pullman Daily News Editorial Board. More here. (AP file photo for illustrative purposes)
Question: Would it be better to move a Judeo-Christian monument, like the 10 Commandments, or to keep it in a public place, but be willing to accept monuments and symbols from other religious organizations?
---
---