Thu., March 27, 2014, 8:23 a.m.
Family Grieves Over Double Slaying
Anthony Samuel said the family knew something was wrong with his half brother, Eldon G. Samuel III. But no one suspected it would end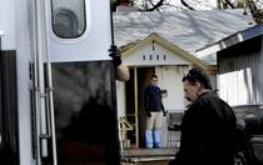 with him accused of a grisly double homicide in Coeur d'Alene. Eldon Samuel III, 14, is jailed in Kootenai County on $1 million bond facing charges that he killed his father, Eldon Samuel Jr., and his 13-year-old brother, Jonathan Samuel, on Monday night. "Eldon, he was never sane," Anthony Samuel said of his half brother. "We all knew he was not exactly right, but we'd never think that this would happen." The boy had a history of violence. He picked fights with people and beat up his younger brother, who had Down syndrome. He once shoved a pencil through Jonathan's jaw, Anthony said/Nina Culver, SR. More here. (SR photo by Kathy Plonka: Coeur d'Alene police investigators were working at the scene of Monday's double killing in Coeur d'Alene on Wednesday)
Thoughts?
---
---