Thu., March 27, 2014, 3:42 p.m.
Solons Partly Fulfill Task Force Goals
Lawmakers embarked on the 2014 session with a clear mandate from educators, stakeholders and Gov. Butch Otter: implement a set of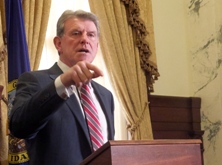 20 reform recommendations. The 74-day session, the shortest in a decade, has come and gone – with legislators making partial progress on 13 recommendations from Otter's Task Force for Improving Education. Lawmakers didn't touch seven recommendations, and haven't fully implemented any of the 20. Still, Otter and several task force members said they are satisfied with these first steps, and recognize that hard work and hundreds of millions of dollars worth of funding challenges remain. "Everything we identified in October that can be done and should be done in this legislative session is happening," said State Superintendent Tom Luna, a task force member/Clark Corbin, IdahoED NEWS. More here. (Photo: IdahoED NEWS)
Question: Are you satisfied that Idaho lawmakers made some progress on education task force goals?
---
---