Thu., March 27, 2014, 11:41 a.m.
Woman Who Took Dog — Hero? Thief?
A woman who took a chained-up dog from deplorable and freezing conditions near Twisp last December will be on trial today in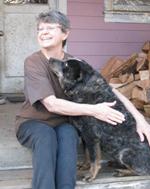 Okanogan County. Prosecutors accuse Judy Camp of pet theft, lying to police and obstructing justice. Camp said she saved the partially blind blue heeler she has since adopted and named "Tank." Now a jury will decide if she is a hero or a thief. A guilty verdict could put Camp in jail for three years. "Yes, I could have taken a plea bargain, but that would have been a lie," Camp said of the case. "I did the right thing for the right reason." Camp discovered from an Internet message board that a dog housed along a county road near the Methow River was suffering/Kip Hill, SR. More here.
Question: Do you consider Judy Camp to be a hero or a thief?
---
---