Labrador Defends Hobby Lobby Stand
Congressman Raul Labrador sent the following email to his supporters today:
"This week, the U.S. Supreme Court heard oral arguments in a landmark case that will help decide the future of religious freedom in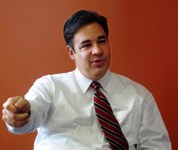 America. The justices are weighing the constitutionality of one of the most controversial aspects of Obamacare -- the requirement that employers must provide birth control and abortifacients to their employees, even if doing so violates their deeply-held religious beliefs. The main case centers around Hobby Lobby, an arts-and-crafts chain based in Oklahoma City that is run on biblical principles. For example, they close on Sundays and refuse to sell shot glasses. They object to the life-terminating drugs and devices required under the Obamacare mandate (better known as the "HHS mandate") on religious grounds. And yet, if they don't follow the mandate, they are facing annual fines of $36,500 per employee, which comes out to nearly $657 million per year. A lower court ruled in favor of Hobby Lobby. Now, the U.S. Supreme Court will make the final call. Their ruling is expected in June." More here. (AP file photo)
Question: Have you been following this case?
---
---