Fri., March 28, 2014, 4:42 p.m.
Top Story: Selle Report Miffs Regan
Top story of the day (comment wise) ...
I had such hope seeing Jeff Selle at the central committee meeting this week, listening to Gubernatorial Candidate Senator Russ Fulcher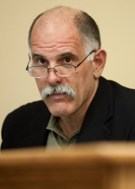 address the committeemen. Last month, you and I discussed how Mr. Selle completely ignored Lt. Governor candidate Jim Chmelik's excellent presentation on the Idaho Lands issue at the last Central Committee meeting. You wrote that you would "talk to Jeff about this." I thought surely, this time and after your talk, Mr. Selle would at least mention in his March 26th article that one of the Idaho gubernatorial candidates was in town. But no. We lament that the politicians in Boise ignore the residents in the north, but when they do visit, the press ignores them. Not even a "Don't let the door hit you in the backside on your way out." Nothing. Very sad. Pathetic, actually/Brent Regan, Coeur d'Alene, letter to the editor/Coeur d'Alene Press. More here.
DFO: I consider Jeff Selle to be an excellent reporter. Period.
Thoughts?
---
---