Fri., March 28, 2014, 8:38 a.m.
Nelson Won't Seek Re-election
Kootenai County Commissioner Jai Nelson said Thursday night she is withdrawing as a candidate for another term. She promised to work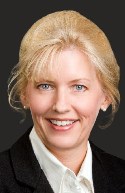 hard through the end of her term in January, and has several projects she wants to finish. "Being a commissioner has always, and only, been about my passion and love for our county and the citizens I serve," Nelson said. "I ran to make a difference, and I hope that my goal has been achieved." She said it was not an easy decision to withdraw, but she must spend more time with family, especially her son. Also, the Republican said the political climate influenced her decision. "I'm saddened by the state of the political scene in our country and especially in our county," Nelson said. "The Republican Party is terribly fractured and I don't see a cohesive pathway in the near future"/David Cole, Coeur d'Alene Press. More here.
DFO: Since there's no Democrat running in this race and a third candidate, Terry Lee Wall has withdrawn, it appears that newcomer David Stewart (Web site here) has won the election for this important courthouse position by default.
Question: Would you like to see a Democrat run as a write-in to provide a choice in the general election?
---
---