Fri., March 28, 2014, 11:38 a.m.
UIdaho Preps For Guns On Campus
Senate Bill 1254, a recently passed Idaho law allowing residents with an enhanced concealed-carry permit to carry a concealed weapon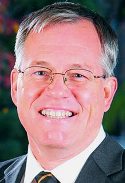 on state university and college campuses, will take effect July 1. Until then, the University of Idaho is taking measures to make sure its own policies are in accordance with the new legislation. UI President Chuck Staben, pictured, sent a letter to the university community Thursday announcing the formation of a task force that will ultimately recommend what policy changes the school should make to ensure campus safety while adhering to the state's rules/Anthony Kuipers, Moscow-Pullman Daily News. More here. (Photo: Lewiston Tribune)
Question: We'll soon see how much it'll cost Idaho's higher-education centers to follow this potentially dangerous law. Thoughts?
---
---