MONDAY, MARCH 31, 2014, 8:18 A.M.
Widmyer Honors Former CdA Mayors
When Mayor Steve Widmyer agreed to speak on leadership, he realized he hasn't been in office long enough to lean on his own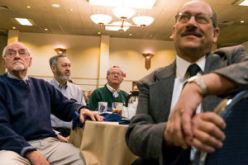 experience - so he honored eight predecessors. "Some of you may have recently heard that I was awarded by the Inlander Magazine the title of North Idaho's Best Elected Official," he told a room full of Coeur d'Alene Rotarians. "I thought that was a pretty cool honor, but I got some mixed reactions from other people." City Attorney Mike Gridley popped his bubble when he jokingly told the mayor, "You do realize that bar is pretty low." That got Widmyer thinking: What has he accomplished so far as mayor? "I was just elected to office and I haven't had the time to get much done," he said. "Maybe what voters want are elected officials who don't do anything"/Jeff Selle, Coeur d'Alene Press. More here. (Coeur d'Alene Press photo by Shawn Gust: Former mayors, from left, Don Johnston, Al Hassell, John McHugh and Jim Fromm listen to Mayor Steve Widmyer speak)
Question: What do you consider Job 1 for new Mayor Steve Widmyer?
---
---