Thu., May 1, 2014, 8:40 a.m.
Dealing w/People Who Hate Spokane
Last week I broke a rule I set for myself at the end of January. I promised I wouldn't wade into debates with people who have stridently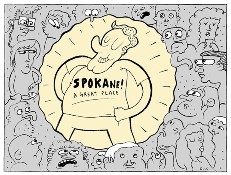 negative feelings about Spokane. But then a year-and-a-half-old LA Weekly blog questioning why any band would ever want to play in Spokane made the rounds on social media, and I fell off the wagon. My name is Luke. It's been 10 days since my last angry repost. I created the rule during the height of Date-Grape-Koolaid gate, when the comments sections of national media outlets overflowed with malcontented former Spokies saying Date Grape was a symptom of Spokane's unredeemable Spokane-ness. I spent an hour trying to convince someone who had hated living here a decade ago that things were better than he remembered. It didn't work/Luke Baumgarten, Inlander. More here. (Illustration: Caleb Walsh)
Question: Do you hate Spokane?
---
---