Fri., May 2, 2014, 8:20 a.m.
Hancock: Obamacare Saved The Farm
Timing, they say, is everything. For John Hancock, that's been particularly true lately. After several years without health insurance,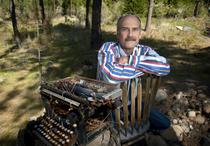 Hancock – the former director of the Spokane Symphony – signed up for coverage under Obamacare not long before being hit with chest pains announcing that he needed heart-valve surgery. He showed up at a cardiologist's office March 5 with a brand-new insurance plan. "They said, we've got to fix this right away," Hancock said. One six-day hospital stay later, his heart is all fixed up – with a new valve grown from pig tissue – and he's mostly recovered. Crucially, the cost didn't bankrupt him. As he puts it: "A government program saved the farm"/Shawn Vestal, SR. More here.
Thoughts?
---
---