Fri., May 2, 2014, 2:24 p.m.
Mayor Targets Waterfront Parking
Mayor Steve Widmyer shared his vision for the city of Coeur d'Alene with the Chamber of Commerce this week. That vision includes eliminating much of the public parking at Independence Point:
"We have arguably one of the most beautiful lakes in the world and a prime spot on the waterfront is a parking lot," Widmyer said. The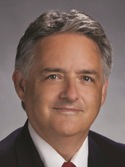 mayor is proposing to redesign Independence Point to build strong connectivity between City Park and McEuen Park along the shoreline. The plan calls a reduction in parking and increased green space and pedestrian access. It would include a drop off area for beachgoers as well as handicap parking. Parking lost at Independence Point could be picked up along Mullan Avenue, which is expected to be redesigned as part of the Four Corners revitalization project. Construction of the Higher Education Campus included two new entrance/exit points into the campus, alleviating the importance of Mullan as an access route for motorists. "I believe we can develop a design that we can gain parking spots and get much improved access to the water," he said. Full vision report here.
Question: Do you support/oppose removing much of the public parking from Independence Point?
---
---