Mon., May 5, 2014, 1:07 p.m.
Chef In The Forest Goes Italian
Retired principal Chris Hammons has gone back to school. His subject? Pizza. The former principal at Lakes and Woodland middle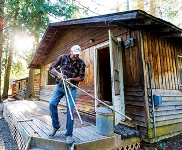 schools in Coeur d'Alene is off to his next assignment of converting the landmark Chef in the Forest location in Hauser into a wood-fired artisan pizza restaurant called Embers by the Lake. "I'm not a person who can sit still very long," said Hammons, who is planning a mid-June opening after a renovation. The original Chef fine-dining restaurant burned down five years ago, re-opened a year later with the same flair and name, then closed again three years ago. "The word 'embers' in Embers by the Lake refers to the wood oven, rather than the burnt restaurant," Hammons said with a chuckle/Brian Walker, Coeur d'Alene Press. More here. (Press photo by Shawn Gust: Chris Hammons removes old pipes from a cabin as his wife Jane while working on a remodel of his Hauser Lake property on Tuesday)
DFO: I still remember a great meal I had at Chef in the Forest some 35 years ago. Dunno what I think re: the restaurant going Italian. You?
---
---