Mon., May 5, 2014, 11:57 a.m.
NIdaho's Most Interesting Burgers
Having recently indulged in a bit of Schmidty's love (see full review), now seems like as good a time as any to pop out a list delving into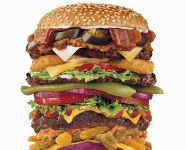 that most gorgeous and versatile of American culinary staples, the burger. From a Mickey D's lowly atomic hockey puck to a $38 gourmet specimen made with beef from cows that were hand massaged by naked and sweaty Japanese men and sprinkled with white truffles, we carnivores simply cannot resist the savory flavor of a hamburger patty piled with various random other accouterments and stuck in a bun. As you may have already gathered, there are plenty of unique and noteworthy burgers to be found right up here in ye olde Idaho panhandle. By the way, I'm skipping over a popular 107-year-old downtown CdA burger joint. Too obvious, and while beloved and delicious (especially with gobs of that spicy ketchup and mustard), just kinda basic/OrangeTV, Get Out! North Idaho. More here.
Question: Which non-Hudson's burger biz in North Idaho produces the best/most interesting hamburger?
---
---