MONDAY, MAY 5, 2014, 8:39 A.M.
Nonini-Whalen Square Off Again
State Sen. Bob Nonini wasted no time Friday at a Republican group luncheon in criticizing his May 20 primary opponent. But there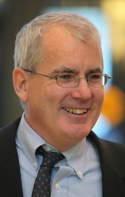 were no digs related to Pat Whalen's surprise admission Thursday night at a candidate forum that he had a 2006 DUI conviction. Instead, Nonini said Whalen, pictured, cheated Republican voters when he failed to complete the Idaho state Republican Party survey, along with two others. "How are Republicans going to know where he stands on important issues like religious freedom, religious liberty, abortion, traditional marriage, health care, home education and business freedom?" Nonini said. The two candidates took part in a Republican primary candidate forum at the Red Lion Templin's Hotel, hosted by the Panhandle Pachyderm Club. Whalen described himself as a "center-right" Republican, who is a strong supporter of the Second Amendment and absolutely pro-life/David Cole, Coeur d'Alene Press. More here.
DFO: Nonini may think that the silly GOP loyalty oath -- aren't we grownup enough now not to genuflect to such things? -- is important. But I consider anyone who completely signs off on the GOPlatform, which includes repeal of the 17th Amendment, to be unworthy of my vote. Half of those running for legislative office in Kootenai County completely agree with the loyalty oath, including the goofy idea of having the Legislature pick our U.S. senators rather than us citizens. Thoughts?
---
---