Mon., May 5, 2014, 12:53 p.m.
Ottercare Failing To Rescue Fulcher
You have to pity Sen. Russ Fulcher. Just a little bit. In his bid to knock off Gov. C.L. (Butch) Otter in the May 20 GOP primary, the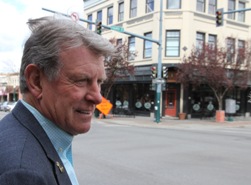 Meridian Republican had one cudgel: Otter's decision to launch a state-based health insurance exchange - what he calls Ottercare. Fulcher could get only so far accusing Otter of propping up Obamacare. National health care reform was settled federal law. All Otter was doing was making the best of it for Idaho employers, health care providers and consumers. What Fulcher needed was a big belly flop. Say only a quarter of the 40,000 people federal officials expected actually went to the Your Health Idaho exchange and signed up for a subsidized health insurance plan/Marty Trillhaase, Lewiston Tribune. More here. (Photo: Duane Rasmussen)
Question: Without Ottercare (read: Obamacare) does Sen. Fulcher have issues to upset Gov. Otter?
---
---