Mon., May 5, 2014, 9:17 a.m.
Quinoa Interests Palouse Farmers
When Ian Clark needs to wash the quinoa seeds he grows on his farm just north of Albion, he first finds a pillowcase. After putting the tiny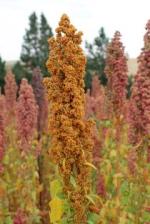 seeds in the pillowcase and tying it off, he runs it through his clothes washer three times. Then he sets it on screens and blow dries it with fans. "There's a coating on the quinoa that is quite hard to get off," said Clark, who planted 10 acres of quinoa in 2013. "It's a big process because you can't let it stay wet too long, otherwise it germinates." The Palouse has the potential to be a great region for growing the grain, according to Kevin Murphy, assistant professor in crop and soil sciences at Washington State University. Quinoa imports have risen from about 4 million pounds in 2007 to 73 million pounds in 2013, and international markets are struggling to keep up with the demand, according to WSU/Kara Mcmurray, Murrow News Service. More here.
---
---