Mon., May 5, 2014, 8:49 a.m.
Residents Still Raving About McEuen
McEuen Park has only been open since Friday, but Malissa Watts and her husband, Ryan, are already having trouble keeping their three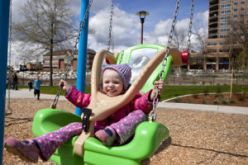 kids away. "It's amazing," Watts, of Coeur d'Alene, said of the park. "I wish they would have made it a long time ago. It's the best park I have ever seen." Watts told the Press on Sunday that she brought her kids to McEuen on Saturday and had trouble getting them ready to go home for dinner. "I like it 100 percent," Watts' 11-year-old daughter, Alise, said. "They all like it 100 percent," Watts added. "We'll probably be here tomorrow too." Dozens of other excited children scurried through the newly opened park on Sunday afternoon while their parents, and grandparents, looked on/Keith Cousins, Coeur d'Alene Press. More here. (CdA Press photo by Keith Cousins: Annalise Boyman, 2, of Coeur d'Alene is all smiles as her grandparents push her on a swing at McEuen Park on Sunday afternoon. While Boyman is not handicapped, the swing she is on is designed for wheelchair accesibility)
Question: How long will it take before we can safely say that the new McEuen Park is/is not a success?
---
---